Carousel Ultimate – Advanced Carousel WordPress Plugin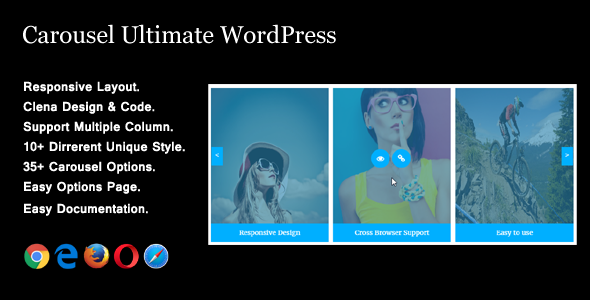 Carousel Ultimate WordPress is a very effective WordPress Carousel plugin which allows you to make nice looking Image carousel with responsive layouts and customizable styles. It's very easy to use & manage everything via options page. Need some simple step to create your Carousel.
Features
Responsive Layout.
Clean Design & Code.
Support Multiple Column.
11 Unique Slider Styles.
Unlimited Slider Anywhere.
Display Carousel By Category.
Order By (author, date, title, modified, random).
Order (ascending, descending).
Show/Hide Slider Images.
Slider Image height option.
Slider Image Size Option (Default or Custom).
Show/Hide Slider Caption.
Slider Caption Background color.
Slider Caption Text color.
Slider Caption Font Size.
Slider Caption Text Alignment.
Show/Hide Slider Permalink.
Show/Hide Slider Lightbox.
Slider Overlay color option.
Slider Icon background color.
Slider Icon color option.
Slider Options
Slider Autoplay Option.
Slider Delay Option.
Slider Stop Hover Option.
Autoplay Time Out (Sec).
Display Total Items.
Items Desktop.
Items Desktop Small.
Items Mobile.
Slider Loop.
Slider Margin.
Slider Navigation.
Slider Navigation Position.
Slider Navigation Color.
Slider Navigation Hover Color.
Slider Navigation Background Color.
Slider Navigation Hover Background Color.
Slider Pagination.
Slider Pagination Color.
Slider Pagination Background Color.
Slider Pagination Style.
Slider Pagination Position.