Dynamic Customized Theme Module for Perfex CRM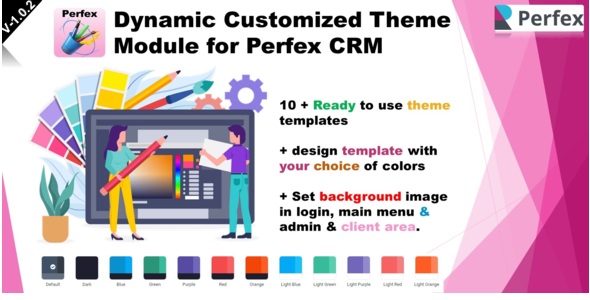 Note: This Module is for Perfex CRM
"Dynamic Customized Theme", this module can be use in Perfex CRM to set different ready and easy to use theme templates in Perfex CRM at both the sides, admin as well as Client.
Documentation
It takes only a few seconds to be installed and activated. Documentation is included.
If you have any questions, feel free to raise a support ticket at our support area. Guys from support department will get back to you as soon as possible with a reply.
Keep in mind that absolutely no coding is needed! Just follow the instructions and be able to use "Dynamic Customized Theme" module in minutes.
Demo
View Demo
UserName : demo_theme@demo.com
Password: 12345678
Change Logs
Version 1.0.2
- Light Green Theme Selection issue solved. Need to Reset Themes, to implement this change.
Version 1.0.1
- Minor Bug fixed