Stone Aged Source Code (Construct2)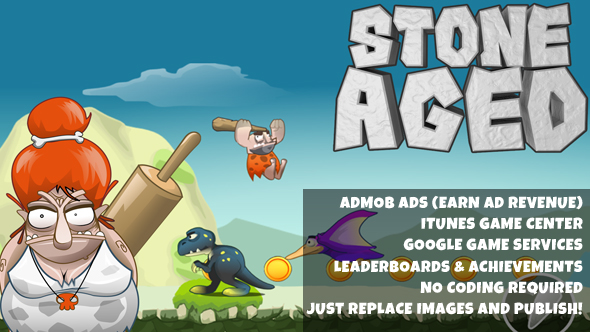 Useful Source Code Project to set up your endless (infinite) runner game.
You can check the Game from the Appstore links below.
https://play.google.com/store/apps/details?id=com.touchnfun.hungrycaveman
https://itunes.apple.com/us/app/stone-aged-caveman-adventure/id1128466664?l=tr&ls=1&mt=8
(If you have further questions please do not hesitate to contact me.)
Start Earning Ad Revenue from Admob Full ScreenAds. Banners are not recommended since no other big companies use banners a lot which destroys the gaming experience and yet Full Screen Ads always give better revenue.
So for both iTunes and Google Play you can integrate Leaderboards and Achievements so players can engage more with your game.
Continue Event: The player can continue the game from where he/she left off by using the coins collected during the game.
Game is created with Construct2 Game Engine which you need to purchase the full version to export your game.
www.scirra.com
The link of the graphics package used inside the game is below.
https://graphicriver.net/item/yabadusaur-game-kit/12730040
If you have further questions please do not hesitate to ask.