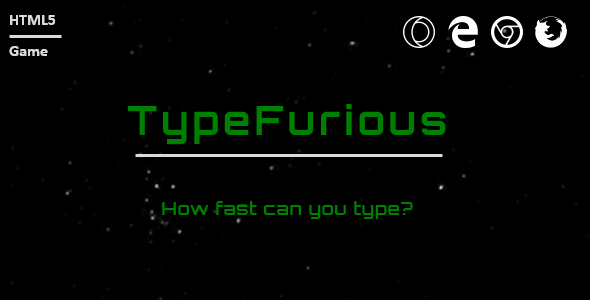 TypeFurious
This is a typing game in which you have to try to match as many words as you can. The words appear on the left of
the screen and move to the right of the screen. Initially the words move with a small speed and new words appear
once two seconds. Gradually, once you level up, the speed of the words is increased and / or the time period
between two words decreases. Try to do your best and be fast because you have only 3 lives.
All the game settings can be found inside data/gameSettings.json file. You can control the game
speed and the number of lives by making changes inside that file.
How to play:
Use your keyboard to type the words you see on the screen. You can use Backspace to remove the last
letter you typed or Escape to delete the entire word and type a new one.
Features
HTML5
Works on all HTML5 browsers
Easy to customize
High resolution
Multiple levels
Responsive
Made with pure JavaScript
Game settings file (.json) to customize level difficulty or add new levels
Favicon
Well documented
Long time support and future updates