WooCommerce POS Customer Cart Screen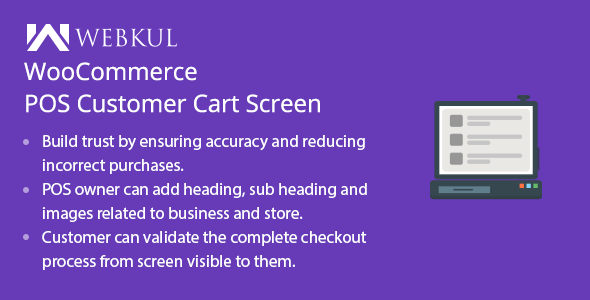 WooCommerce POS Customer Screen

Customer Screen for WooCommerce POS: This plugin will allow the customer screen to be integrated with WooCommerce POS. .
The module allows the customer to confirm that their POS system checkout is error-free. They can verify the products added to the cart, the order total, and other information.
The extension eliminates the requirement for any additional hardware in order to construct the interface.
Note:
The plugin works for only registered customers.
The WooCommerce POS Customer Cart Screen is an add-on of WooCommerce POS. Therefore, you must install the WooCommerce POS Plugin.
Video Preview
Why WooCommerce POS Customer Screen
Support
Dear Customers, if you have a question/query, please raise a ticket at webkul.uvdesk.com. We will do our best to answer as quick as it is possible. Don't give us a low rate without contacting support on the issue you've faced with. We are always happy to help you.
WooCommerce POS Customer Screen
WooCommerce POS gets a second customer-facing screen.
On a secondary WooCommerce POS Customer Display, show the WooCommerce POS Cart.
On the POS Customer Cart Screen, display Order Details such as products, discounts, and the total amount.

The WooCommerce POS Cart Screen displays the customer's order details.
The secondary screen can be launched without a physical connection or a POSBox.
As a result, each POS Outlet can have its own WooCommerce POS Customer screen.
The secondary screen of each POS Outlet can be configured in a variety of ways.
Highlighted Features
1- Improved Customer Service

By ensuring accuracy and decreasing wrong purchases, this connection can help to create confidence.
2- Customer Display Can Be Customized
The POS owner can add information about the business and store, such as headings, subheadings, descriptions, and photographs.
3- Before you Check out, Review your Order

From the screen in front of them, the customer may verify the entire checkout procedure.
4- Each Outlet has its Own Screen Configuration
Depending on the settings made in the backend, each outlet can display different data. As a result, the POS customer screen takes on a more individualized appearance.
Business Use

Any customer in a physical store is always interested in seeing the final checkout to ensure that the procedure was completed correctly.
This extension gives the physical store owner an advantage by increasing client loyalty by providing the best service at the moment of sale..
POS agents can use this extension to show the customer the products, order total, discount, and other cart information.

Before completing the final checkout, the customer can double-check all of the information displayed. As a result, any risk of an error in the procedure is eliminated.
Change Log
"Initial release v 1.0.0" 

v 1.0.0
Initial release